In a small but intriguing pilot study that compared identical twins to fraternal twins, researchers at the London School of Hygiene and Tropical Medicine found that mosquitoes were similarly attracted to identical twins, who have the exact same genes. Fraternal twins, on the other hand, seemed to either repel or attract mosquitoes at very different rates.
"If we understand the genetic basis for variation between individuals, it could be possible to develop bespoke ways to control mosquitoes better, and develop new ways to repel them," he said. "In the future, we may even be able to take a pill which will enhance the production of natural repellents by the body and ultimately replace skin lotions."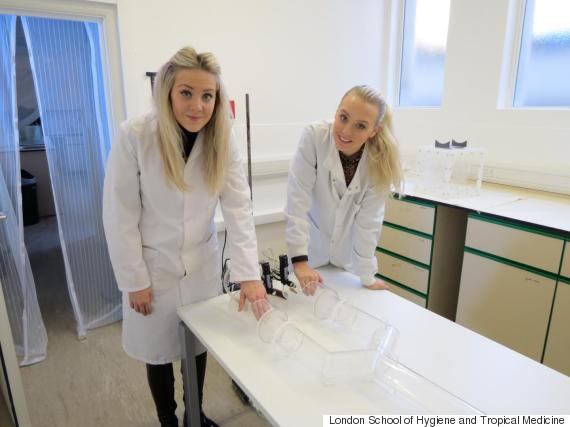 At the London School of Hygiene and Tropical Medicine, identical twins place their hands in a Y-shaped tube filled with mosquitoes to see how attractive they smell.
To test whether mosquitoes would be more or less attracted to certain twins, each study participant was paired up with their sibling and instructed to place one hand in the forks of a Y-shaped tube. Then researchers then released mosquitoes into the middle tube to see how many insects would fly to one hand versus another.
Intuitively, people who attract all the bites during a summer BBQ party when no one else does may already know that they are especially tantalizing to mosquitoes, and that they need to take more precaution than others to avoid itchy welts. But figuring out the best way to repel mosquitoes is about more than just keeping your bare legs bite-free during summer months.